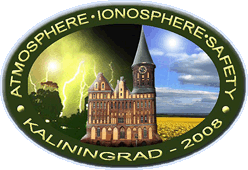 PARTICIPANT REGISTRATION FORM
All the participants are kindly asked to fill in the REGISTRATION FORM for each presentation (for example two forms for one poster and one oral presentation).
Please, fill in a form and click SEND button. Fields marked with an asterisk * are required.
If you have questions or any problems with this form, please, contact us by e-mail ais2008@geoscan.org or use SEND MESSAGE PAGE.
---
Copyright (C) 2007 by GEOSCAN
International Agency on Complex Monitoring of the Earth, Natural Disasters and Technogenic Catastrophes "GEOSCAN". All rights reserved.
Write to webmaster